"ALSET" Aviation Life Support Equipment Tester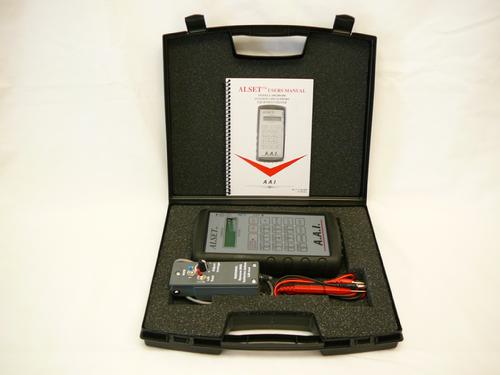 The "ALSET" Tester includes: Rubber Boot with Dust Plug, NVG LBI Test Adapter, Test Leads, User's Manual and Hard Protective Case
The "ALSET" Tester (GEN III) is a digital, lightweight/compact, hand held multi-purpose Aviation Life Support Equipment Tester. The "ALSET" is engineered and programmed to test military and commercial Lithium & Alkaline Batteries, Distress Marker Strobe Lights, Flight Helmet Earphones, Oxygen Mask & Boom Microphones, NVG Bracket electrical contacts, battery voltage & LBI light. The "ALSET" is also an OHM & VOLT meter used to isolate defective flight equipment component parts using provided test leads.
It measures 8 1/2 inches tall, 4 1/2 inches wide and 1 1/2 inches thick and is housed in a high impact rubber boot with stand. A custom foam filled, hard protective case is included. The "ALSET" (GEN III) is powered by 4 AA 1.5V commercial batteries with approximately 50+ hours of continuous use. An automatic 10 minute shut-off after no use will save your battery power.
The pre-programmed battery mode easily allows the user to test batteries with and without OHMS resistance and time as per Technical Order requirements. The programmed batteries include: AAA, AA, C, D (1.5V), 9V Alkaline, 6.4V Lithium SDU-5/E Strobe, 12V Lithium PRC-90 Radio, 9V URT-33C/M-D Beacon, 3V NVG Low Profile Battery Pack, 3.2V & 3.6V Lithium. 50 additional custom batteries of your choice may be programmed into Memory within the Custom Battery Mode. The Custom Battery Mode allows the user the choice of testing VOLTAGE, OHMS RESISTANCE & TIME if required.

The "ALSET" (GEN III) is programmed to test the flash rate per minute for the MS-2000M (Xenon), MS-2000M2 (LED) Distress Marker Strobe Lights and the SDU-5/E (Xenon) Strobe, plus the "Sidewinder" (LED) Strobe Light. The flash rate per minute test reading is shown on the digital display window with only 2 flashes of the Strobe Light directly over the Strobe Sensor Window.

By plugging the Oxygen Mask, Flight Helmet or Headset Communications Cord plug (U-174/U only) into the "ALSET", the OHMS and continuity of the earphones (low & high impedance), dynamic microphone and communications cord can all be tested.

An NVG LBI Test Adapter is included on all models and will test all 4 of the NVG Helmet Bracket electrical contacts, continuity of the wiring, battery selector switch and voltage of the batteries in the Low Profile Battery Pack & Helmet Bracket batteries. The "ALSET" places the exact mili-amp load on the NVG Support System as an actual Night Vision Goggle in the "ON" mode for 5 seconds, testing the entire system with load accuracy. The NVG LBI Test Adapter is powered by two 1.5V AA batteries. It will perform the LBI Light Circuit Test (as required by the T.O.) by illuminating the LBI Light and displaying the voltage reading on the "ALSET" when illuminated. The NVG LBI Test Adapter requires no calibration.
The "ALSET" (GEN III) Tester replaces up to 4 other outdated heritage testers currently being used in the Aircrew Flight Equipment field, some that are supported with expensive odd batteries. The "ALSET" gives you a lightweight, compact, hand held multi-purpose digital tester for daily use as well as a small foot print for deployments.

ALSET Models (GEN III) Available are:

ALSET-100 GEN III (P/N 14229-100) AIR NATIONAL GUARD

ALSET-200 GEN III (P/N 14229-200) U.S. AIR FORCE & AFRC
ALSET-300 GEN III (P/N 14229-300) U.S. NAVY & U.S. MARINE CORPS

(PENDING)



ALSET-400 GEN III (P/N 14229-400) U.S. ARMY & U.S. ARMY NATIONAL GUARD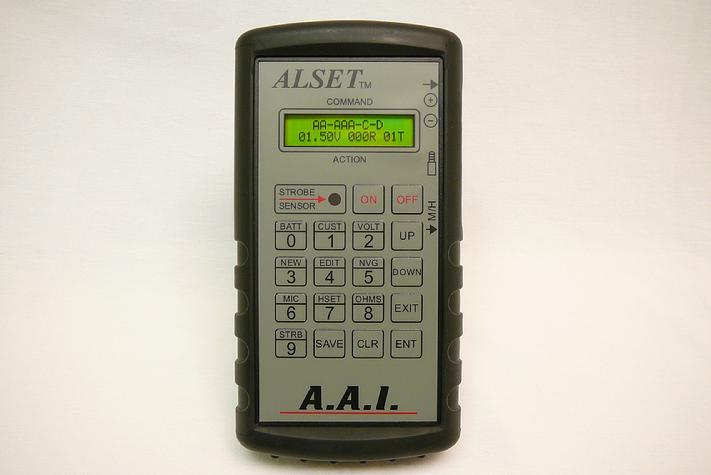 The "ALSET" Tester is a lightweight hand held multi-purpose Aircrew Flight Equipment tester
The ALSET Tester (GEN III) may be ordered through GSA Advantage
OR
Direct from A.A.I. at 1-800-845-1994 or info@aaiusa.us
Government Credit Cards Accepted



*** The ALSET TESTER (GEN III) has been assigned
NSN 6695-01-590-8393 DLA is now filling orders


"ALSET" is a 2007 registered trademark of A.A.I.